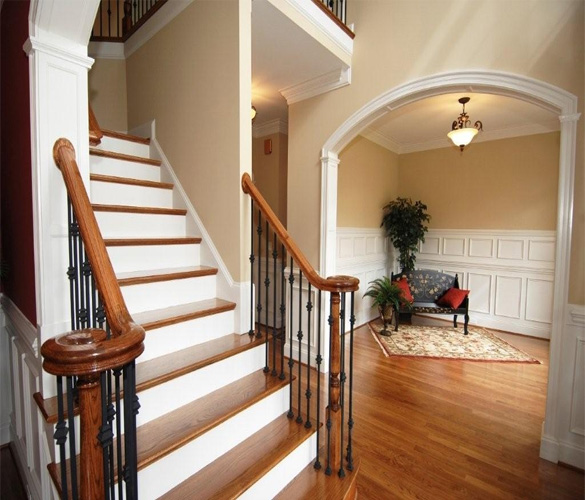 Our Testimonials
At Decorate Your Life, we have many happy customers who have been delighted with the results of our painting and decorating work. You will be able to see for yourself from the customer testimonials just how pleased our clients have been with the work that Decorate Your Life has carried out for them. Take a look at the customer testimonials below and see for yourself how satisfied clients have been with the standard of workmanship.
You Can Also Benefit from Great Results
When it comes to getting painting and decorating work carried out, you can also benefit from great results when you use Decorate Your Life. As is demonstrated in the testimonials, you will be able to benefit from a service that is professional and reliable as well as the experience and expertise for those who have been in this industry for years.
LEARN MORE
CONTACT US
Excellent quality & service

We recently had our kitchen, hallway, stairs and doors painted by Peter from Decorate Your Life. I was extremely impressed by the level of customer service initially from Jarek and then also Peter throughout the job. Very courteous and helpful and always available for questions. Peter's quality of paintwork was also excellent. He was also very tidy, timely and cleaned up after himself after each days work. A fantastic job and I would recommend them to anyone!

VikB 23/01/2015


Professional high quality workmanship

I've used many painters and decorators over the years and Jarek is up there with the best. He has a great eye for detail and you can be assured of high quality workmanship and a price that won't break the bank. A pleasure to have in the house too-he makes the least mess of any tradesman I have ever used and he has great equipment too that minimizes the mess and ensures the finish is of a high standard. I have no hesitation in using him again and have recommended him to my friends and neighbors.

MarkKennington 02/01/2015


Decorating excellence

I have recently had my home in Kensington refurbished, including painting and decorating. 'decorate your life' were highly recommended by a friend. Their boss, Jarek Stanislawek is one of the most accomplished all round painter and decorators Ihave encountered. He is charming, courteous,punctual and hard working. The quality of the work from rendering to finished painting was of the highest standard. The work site was kept impeccably clean and tidy throughout the project. I would have no hesitation in recommending Jarek to anyone looking for a top class job. Regards, Vincent Lawton

VMLawton 15/04/2014


City Apartment Re-juvenated

Recommended by a friend DYL, did not fail to satisfy. Super articulate and polite they provided the level of quality needed on a modern "City" apartment. High quality paintwork all round to the smallest detail. Even more impressive was the floor. Sanded, cracks filled, varnished, sanded again, varnished again etc - this unusual care has resulted in an excellent job that I am confident will last longer than the original. Super-tidy, excellent with (notoriously miserable) neighbors and to the time scale quoted. Good work boys! Steve C Shoreditch.

Schesters 12/11/2013


Great job

Over the 9 years of being in our home, I have used many different painters and decorators but I have never been so impressed as I was with professionalism that Jarek and the team from Decorate Your Life provided. Jarek is a perfectionist and it shows in his work. He is diligent, kind and honest. I was always changing my mind or adding something new for them to do, all my job requests, no matter how big or small, were accepted graciously. The care throughout our decoration period was exceptional. Everything was well protected and each day the place was left spotless. Jarek is not only brilliant at what he does, he is a genuine nice guy. I highly recommend Jarek and his team and will happily promote Decorate Your Life to all of my friends throughout London.

Kelly NAHAMA 10/10/2013